Artscript Canada Publications
Best selling Autobiographies

Homesteading in the Peace River Country

Canadian Veteran Land Act

Settling Northern Alberta

Books about the Canadian Prairies

At sea with my heart in the land

Travel with the Royal Canadian Navy

Flying and Skydiving in British Columbia

Homesteading in Eaglesham Alberta

From the homestead to the South Seas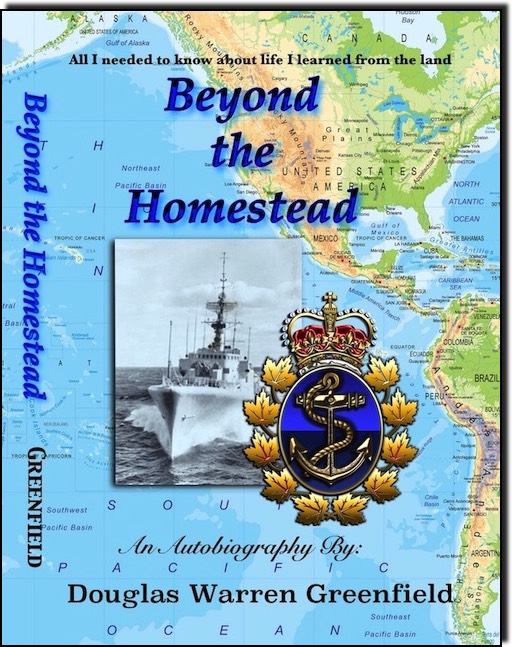 An autobiography by:
Douglas W. Greenfield


Editor & Research by:
Maggie M. Greenfield BA-I.C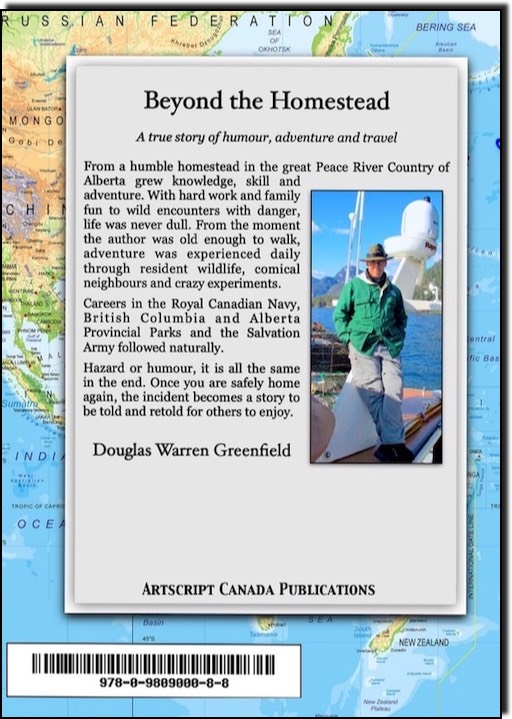 Copyright © 2020 Douglas Warren Greenfield

ISBN: 978-0-9809000-8-8 paperback
ISBN:978-1-9991415-0-9 Kindle edition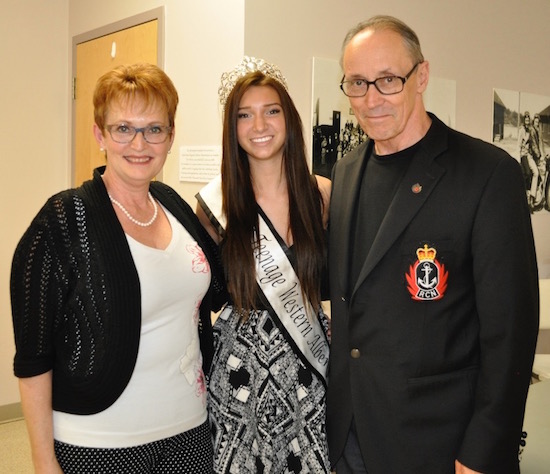 Douglas Greenfield with Miss Teenage Western Alberta at a book reading in Grande Prairie Alberta.
Adventure - History - Travel - Humour
Homesteading in Canada's North
________________
Autobiography / Canadian History


Beyond the Homestead is a story of humour and adventure!

Follow me through the fun of growing up on a homestead in Canada's north and building an exciting life of adventure, travel and challenge.

A true story of humour, adventure and travel, Beyond The Homestead begins with pioneering life on a homestead in northern Canada. Starting with a short family history, the story humorously progresses into cabin living and the fun and challenge of building the homestead. Each chapter then embraces a different theme that recounts those experiences from the author's childhood beginnings to a life of travel and adventure. Each is an account of how every aspect of homestead life had an impact upon his future years and that almost all that he needed to know about life, he learned from the land.

"I have enjoyed telling of the great fulfillment that came from pursuing my gifts and following my dreams across the world," says the author. "The wild lands of the great Peace River Country were a garden out of which grew knowledge, skill and adventure, preparing me for an exciting and meaningful life to come. From hard work and family fun to wild encounters with danger, life was never dull. Adventure began the moment I was old enough to walk and was experienced daily through resident wildlife, comical neighbours and crazy experiments. Hazard or humour, it is all the same in the end. Once you are safely home again, the incident becomes a story to be told and retold for others to enjoy. Dangers of hunting, exploring, flying and skydiving became part of my 'normal' lifestyle and provide exciting reading for the adventurous heart.
Enjoy!"